Welcome to the I.C.U. Wiki
I.C.U. is an upcoming horror interactive Twitch game developed by Keenan 'Criken' Mosimann. It was recently Kickstarter funded, but the release date has not yet been announced. This wikia is a collaborative resource for the game and is maintained by the contributions of the fans. Feel free to use our Discussions or chat room to discuss gameplay. All editors are welcome. Come join our community!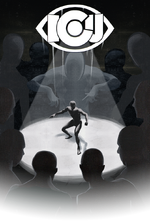 I.C.U is an episodic game created specifically for streamers at Twitch TV. The streamers load the game and their fans can decide in which ways to inhibit progression. The first episode takes place in a dark creepy invironment where the goal for the streamer is to reach three shacks hidden in the forest. Each found shack will trigger a modifier that can be voted on by the audience. Among these are modifiers shrinking the character to the size of a child and making the screen appear as tho the character was drunk and seeing double (or triple). After successfully progressing through the shacks, the player will then need to locate the exit. Read More...
Community content is available under
CC-BY-SA
unless otherwise noted.